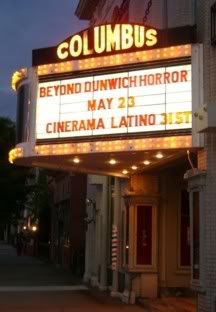 When I went to the premiere showing of Beyond the Dunwich Horror at the Columbus Theatre in Providence, I wasn't sure what I was in for. Horror fans are divided over director Richard Griffin's work; some love and admire the man for his clever scripts, unique camera work, and working with a miniscule budget. Some others would completely argue those points.
As it turns out, I was amazed and overjoyed at how much I enjoyed it. I found it to be a an amazing achievement for a small budget, independently produced horror film in an age of Hollywood let downs and low budget crap. In the first three minutes I found myself jumping out of my chair, something I hadn't done at a modern horror film in years. From there on I was hooked and was waiting for what Griffin was going to throw at the audience next. Usually with modern day horror films, I'm counting the minutes for the thing to be over with. But Dunwich has an amazing knack for keeping the audience entertained, keeping the action at a steady pace, but also having a clever story line with interesting character developments.
The story basically keeps faithful to the original Lovecraft novel, but deviates in it's attempt to retell the story in a modern setting. Kenny comes to the town of Dunwich after finding out his brother has been admitted to a psych ward. Kenny meets up with a reporter named Marsha who has been investigating the weird murders surrounding Dunwich, and the two find his brother has been involved with local weird and sleazy rich kids Nikki and Otto. The plot weaves between the present and the past and keeps you engaged, constantly giving you new clues as to what horror awaits the characters.
One of the films greatest achievements is its use of shock and gore as Griffin has clearly honed his craft substantially and understands how to keep an audience on their toes. Although there are certainly great moments of blood and guts being thrown around (and some great eyeball gouging scenes), the camera cuts away quickly after something nasty has happened and doesn't fixate on being overtly gross, giving the film a much more classic horror feel. The acting caliber in the film is also above and beyond it's peers, notably the work of Michael Reed (Kenny) who has the chops and the looks of someone that could be a future favorite genre actor. Dunwich also features cameos by cult star Lynn Lowrey (famous for her roles in I Drink Your Blood and The Crazies) and local horror TV host Penny Dreadful.
In a recent Cinema Suicide interview with director Griffin, he explains that one of his main influences for the film was Italian directors like Lucio Fulci. While the influence is apparent in the almost Giallo-esque telling of the story and the use of eyeball torture in the film, it is Griffin's own style that makes the film worth watching. Along with the tension and suspense, there is also Griffin's trademark humor; the film never takes itself too seriously, but never becomes a parody of itself, a fault some find in Griffin's earlier work.
Beyond the Dunwich Horror is an absolute treat for horror fans that are tired of the Hollywood big budget films that have little style or class or the low budget films that rely on straight exploitation to sell the film. It's also going to be interesting to see what Griffin and his company Scorpio Film Releasing comes out with next.
Beyond the Dunwich Horror will have a special engagement on Friday June 13th at the Cable Car Theatre in Providence.